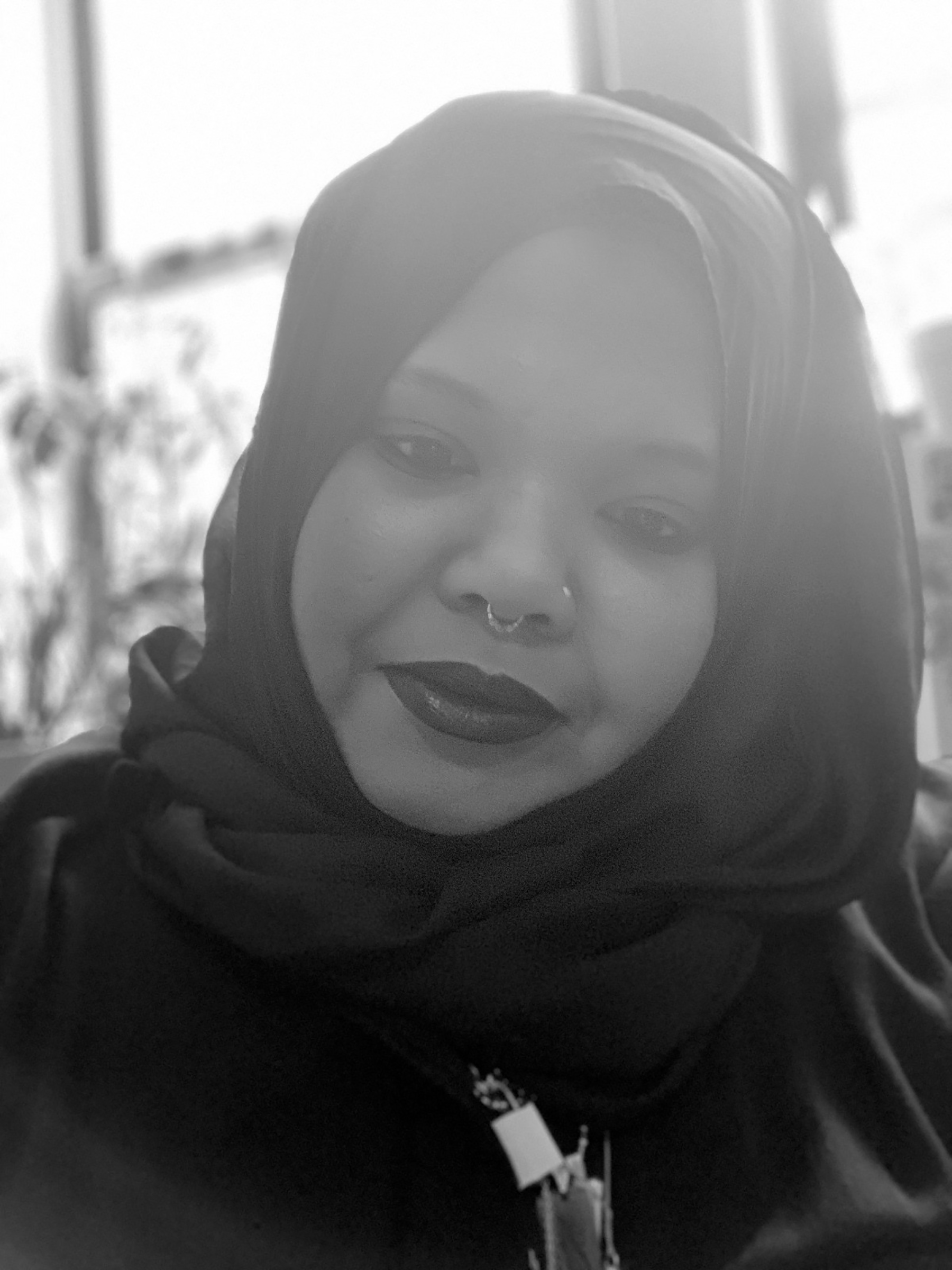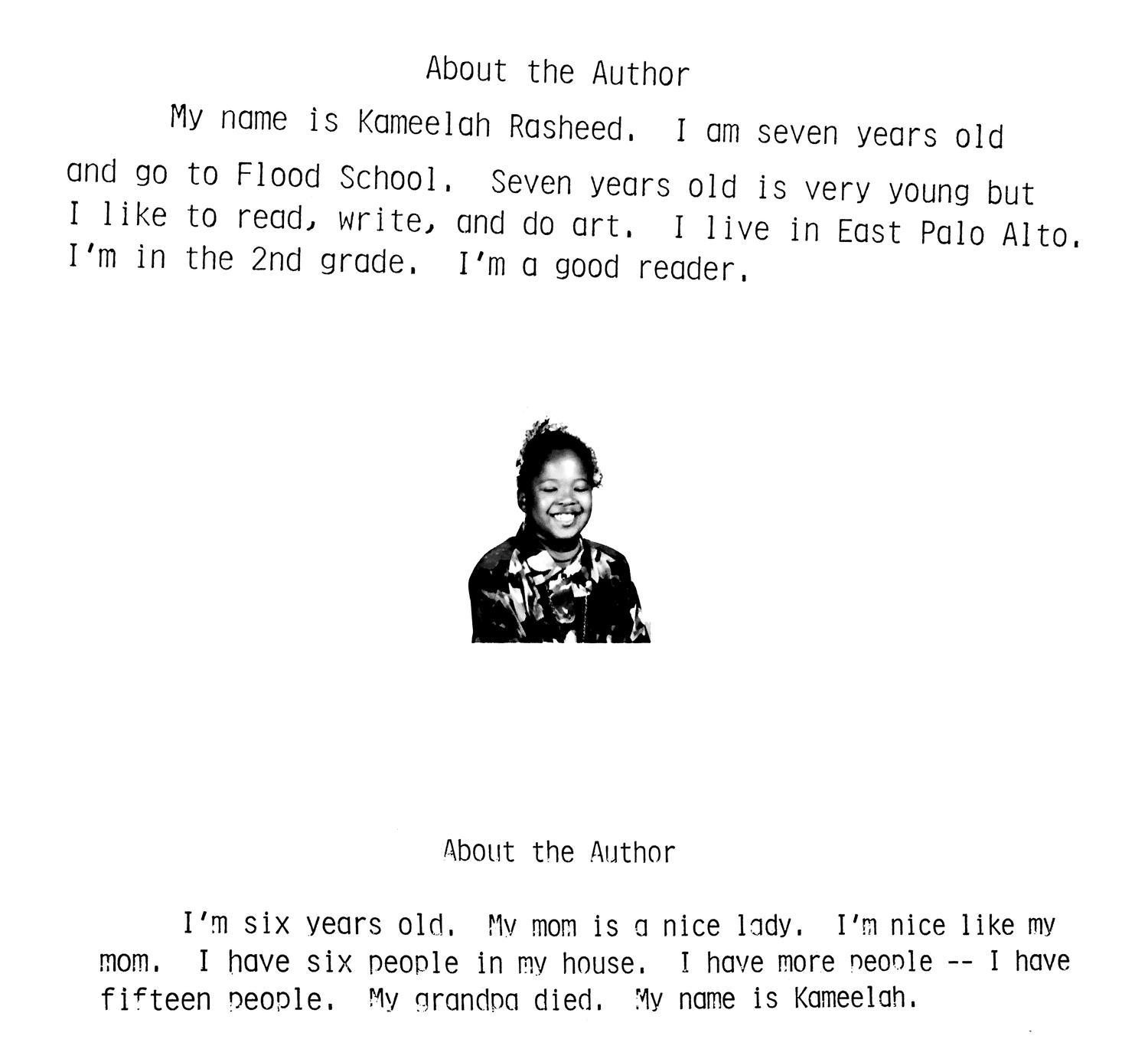 Kameelah Janan Rasheed was born in East Palo Alto, CA. Rasheed lives and works in Brooklyn, NY. She holds an MA in Secondary Social Studies Education from Stanford University (2008) and a BA in Public Policy from Pomona College (2006). She was an Amy Biehl U.S. Fulbright Scholar at the University of Witwatersrand, South Africa (2006–7). A learner, she grapples with the poetics-pleasures-politics of Black knowledge production, information technologies, [un]learning, and belief formation.

Most recently, they are a recipient of a 2022 Schering Stiftung Award for Artistic Research; a 2022 Creative Capital Award; a 2022 Betty Parsons Fellow – Artists2Artists Art Matters Award; a 2022 Artists + Machine Intelligence Grants - Experiments with Google; and a 2021 Guggenheim Fellowship in Fine Arts. You can learn more about her practice in the Art 21 documentary (October 2021) or a recent interview in Art in America (July 2021).

Rasheed is the author of four artist's books: i am not done yet (Mousse Publishing, 2022); An Alphabetical Accumulation of Approximate Observations (Endless Editions, 2019); No New Theories (Printed Matter, 2019); and the digital publication Scoring the Stacks (Brooklyn Public Library, 2021). Her fifth artist book is due out in 2023 from KW Institute for Contemporary Art (Berlin, DE). Their writing has appeared in Triple Canopy, The New Inquiry, Shift Space, Active Cultures, and The Believer. Rasheed founded Mapping the Spirit, a digital archive documenting how Black faith lives, shifts, and self-revises.

Rasheed's work has been exhibited nationally at the Brooklyn Museum; the New Museum; MASS MoCA; the Queens Museum; the Bronx Museum; the Studio Museum in Harlem; Portland Institute for Contemporary Art; the Institute of Contemporary Art, Philadelphia; Jack Shainman Gallery, New York; the Brooklyn Public Library; and the Brooklyn Historical Society, among others. Her work has been exhibited internationally at NOME; Transmission Gallery, Glasgow; Kunsthalle Wien; Bétonsalon Centre d'art et de recherche, Paris; Contemporary Art Gallery, Vancouver; Artspace Peterborough; the 57th Venice Biennial; and the National Gallery of Zimbabwe, among others. Her public installations have appeared at Ballroom Marfa; the Brooklyn Museum; For Freedoms x Times Square Art, New York; Public Art Fund, New York; Moody Center for the Arts, Houston; The California Air Resources Board; and several others.

NOME Gallery (Berlin, DE) represents Rasheed in Europe and the Americas.

Rasheed is an adjunct instructor at the Cooper Union for the Advancement of Science and Art, a Visiting Critic at Yale School of Art, Sculpture, a Mentor-in-Residence with NEW Inc., and a repeat instructor at the School for Poetic Computation. After being a five-year high school teacher, Rasheed spent almost a decade designing social studies curricula and coaching teachers. She carries on her coaching and curriculum design work through her consultant business Orange Tangent Study, founded in 2020, which provides unrestricted microgrants to artists and supports transdisciplinary project development. Since 2020, Orange Tangent Study has dispersed almost 7,000 USD.

Representation: NOME

(Americas and Europe).
Museum Exhibitions:

Brooklyn Museum; New Museum; MASS MoCA; Queens Museum; Bronx Museum; Studio Museum in Harlem; Block Museum of Art, Northwestern University; Portland Institute for Contemporary Art; Institute of Contemporary Art, Philadelphia; School of the Museum of Fine Arts at Tufts University; MoCADA, Brooklyn; and Stamp Gallery at the University of Maryland



Gallery Exhibitions (US):

Jack Shainman Gallery, New York; Jenkins Johnson Gallery, Brooklyn; Los Angeles Contemporary; Brooklyn Academy of Music; Ghebaly Gallery, Los Angeles; AA|LA Gallery; Richard & Dolly Maass Gallery at SUNY Purchase; Visitor Welcome Center, Los Angeles; 8th Floor Gallery, New York; The Luminary, St. Louis; Lower Manhattan Cultural Council Arts Center at Governors Island; SOAP Factory, Minneapolis; BRIC, Brooklyn; and Vox Populi, Philadelphia



Gallery Exhibitions (International):

NOME Gallery, Berlin; Transmission Gallery, Glasgow; Akershus Art Centre, Lillestrøm; Kunsthalle Wien; Bétonsalon - Centre d'art et de recherche, Paris; Haus der Architektur, Graz; Contemporary Art Gallery, Vancouver; Artspace Peterborough; 57th Venice Biennial; Pinchuk ArtCentre, Kyiv; Wysing Art Centre, Cambridge; and National Gallery of Zimbabwe



Community + Public Institutions Exhibitions: Brooklyn Historical Society; Brooklyn Public Library Central Branch; Project Row Houses; Weeksville Heritage Center, Brooklyn; Schomburg Center for Research in Black Culture, New York; and Printed Matter, New York

Public Art:

Ballroom Marfa; Brooklyn Museum; For Freedoms x Times Square Art; Public Art Fund; Moody Center for the Arts, Rice University; The California Air Resources Board; and Yaletown Roundhouse



Grants + Awards:

Creative Capital Award (2022); Joyce Foundation Award (2021); Center on African American Religion, Sexual Politics and Social Justice (CARSS) at Columbia University Rapid Response Grant (2020); Visiting Artist in the Print Department, University of Texas, Austin (2020); Northern Trust Purchase Prize at EXPO Chicago (2019); We, Women Photography Grant (2019); Alumni Award for Art in Community - Laundromat Project (2017); The Harpo Foundation Grant (2016); On Religion Photography Grant, Magnum Foundation (2016); Triple Canopy at NYPL Labs Award (2015); Artadia Grant (2015); and Art Matters Foundation Grant (2014)



Residencies:

International Studio & Curatorial Program (Vision Residency, 2020); Tiger Strikes Asteroid Short Term Residency (2020); Triangle Arts (2019); Pioneer Works (2018–2019); Katowitz Radin Artist in Residence, Brooklyn Public Library, Central Branch (2018–2019); Summer Art & Social Justice Residency and Exhibition at the New Museum (2018); Smack Mellon (2016–2017); Creative Exchange Lab, Portland Institute of Contemporary Art (2016); Center for Afrofuturist Studies, MoMA PS1 (2016); Lower Manhattan Cultural Council Process Space (2015); Lower East Side Printshop (2015); Vermont Studio Center (2014); Working Classroom (2014); Center for Book Arts (2012); and Center for Photography at Woodstock (2012)



Fellowships:

Guggenheim Fellowship in Fine Arts (2021); AIR Gallery Fellowship (2015); Jerome Foundation Fellowship Program, Queens Museum (2015); and Create Change Laundromat Project Fellowship (2013)



Artist Publications: A

n Alphabetical Accumulation of Approximate Observations (Endless Editions, 2019), No New Theories (Printed Matter, 2019), and in the proper direction: forward/also the ache of (perceived) velocity (Printed Matter, 2017)
Poetry Readings:

Critical Poetics Research Group at Nottingham Trent University in partnership with Nottingham Contemporary; Cave Canem, Brooklyn; Red Bull Studios, New York; Housing Works, New York; and The Poetry Project, New York
Improv and Stand Up Comedy Performances:

Magnet Theater, New York; Union Hall, New York
Public Collections: Kadist, San Francisco; CA2M (Centro de Arte Dos de Mayo), Madrid; Rubin Foundation, New York; Center for Photography at Woodstock/Extended Loan-Samuel Dorsky Museum of Art; Studio Museum in Harlem; Center for Book Arts, New York; Leeway Foundation, Philadelphia; University of Maryland, College Park; The Speed Art Museum, Louisville; Block Museum of Art - Northwestern University, Illinois



Talks, Lectures, and Panels:

8th Floor Gallery, New York; Barnard College, New York; Brooklyn Museum; Brooklyn Public Library, Central Branch; Brooklyn Historical Society; Center for the Study of Slavery and Justice, Brown University; Columbia University, New York; Contemporary Art Gallery, Vancouver; Cooper Union, New York; Creative Time, New York; Center for Curatorial Studies, Bard College, New York; Gallery 400, University of Illinois at Chicago; E-Flux/KADIST, New York; Gallery Aferro, Newark; Gavin Brown's Enterprise, New York; The Finnish Cultural Institute of New York; Hampshire College; Haverford College; Institut National d'histoire de l'art, Paris; Interference Archive, Brooklyn; Institute of Contemporary Art, Philadelphia; Jenkins Johnson Gallery, Brooklyn; The Kitchen, New York; Magnum Foundation, New York; Maryland Institute of Contemporary Art; Metropolitan Museum of Art, New York; MIT List Visual Arts Center and Contemporary Arts Center (co-host); Montclair Art Museum; Museum of Modern Art, New York; MoMA PS1, New York; Museum of the City of New York; New Museum, New York;, The New School, New York; New York University; Northwestern University; Parsons School of Design, New York; Piet Zwart Institute, Willem de Kooning Academy, Rotterdam; Pratt University, New York; Printed Matter Book Fair, New York; Queens Museum; Rhode Island School of Design; S A V V Y Contemporary, Berlin; Schomburg Center for Research in Black Culture, New York Public Library; School of the Art Institute of Chicago; School of Visual Arts, New York; The Studio Museum in Harlem; Triple Canopy, New York; University of Arkansas; The University of the Arts, Pennsylvania; University of Buffalo Art Galleries; University of Maryland; University of Texas, Austin; Vancouver Art Book Fair; Vera List Center for Art and Politics, New York; Weeksville Heritage Center, Brooklyn; White Columns, New York; Williams College; Yale School of Art, Photography Department

Board Membership:

Board of Directors,

Sadie Nash Leadership Program

(2017–2021); Board of Trustees,

Metropolitan New York Library Council

(2020–present); Board of Directors,

Printed Matter, Inc.

(2021–present)